« Back
Communications tools to assist your school during the COVID-19 crisis
March 20th, 2020
---
These are challenging times for schools, as well as businesses, organizations, and citizens everywhere. The new COVID-19 virus has affected our daily lives in so many ways. While having serious reverence for the global affects of this crisis, we want to remind our SoSimple school clients of the communications tools available to you to reach out to students, families, staff, faculty, and the entire community. These tools can be found right in your website's dashboard.
FOR SOSIMPLE CMS CLIENTS
The following tools are free and available immediately through your SoSimple CMS-based website. If your account doesn't currently have these tools, please let us know and we will immediately add them to your dashboard for free.
Site Alerts
With your Site Alert website tool, you can instantly post information regarding closings, canceled events, or any other news you may need to convey. These Site Alerts can be prominently displayed on your website's homepage and/or every website page you designate.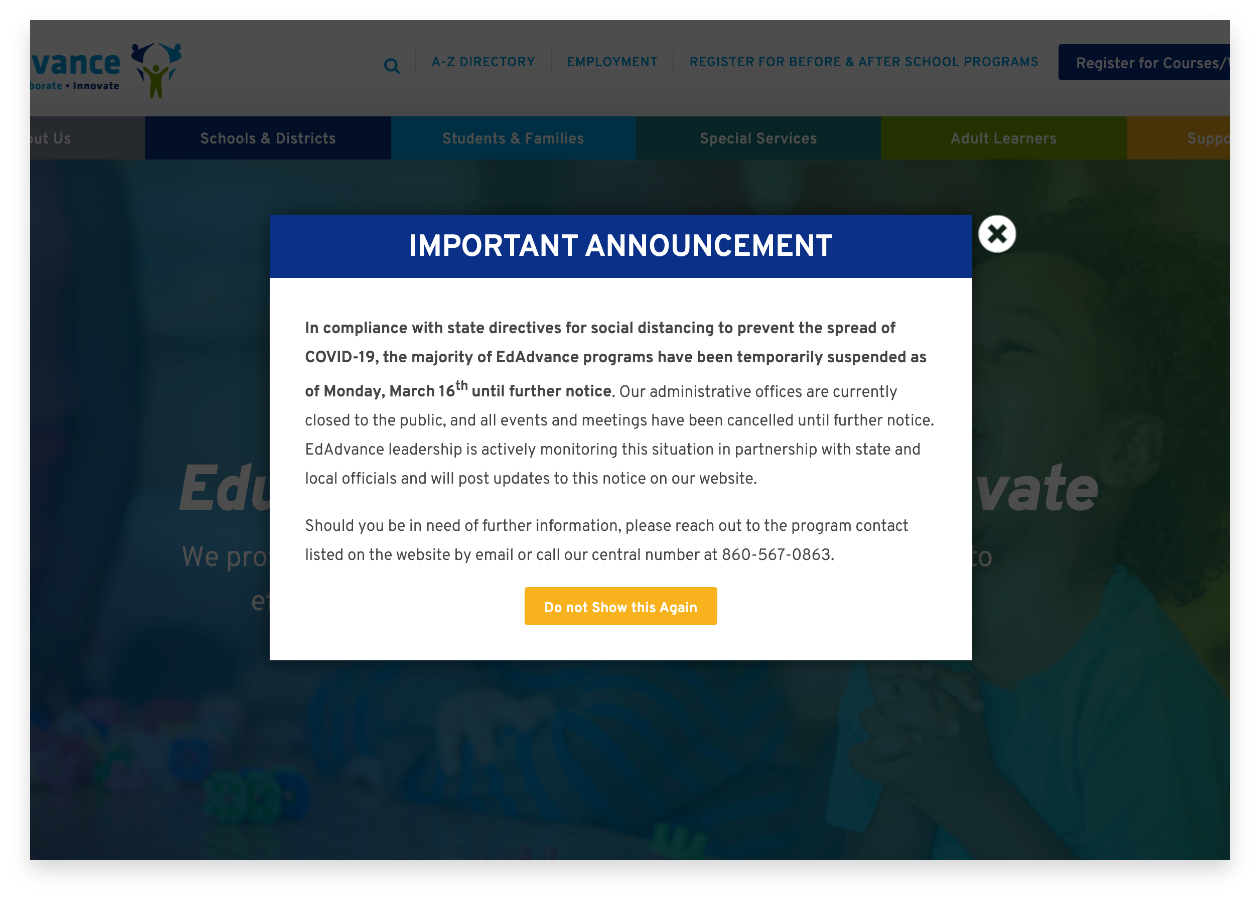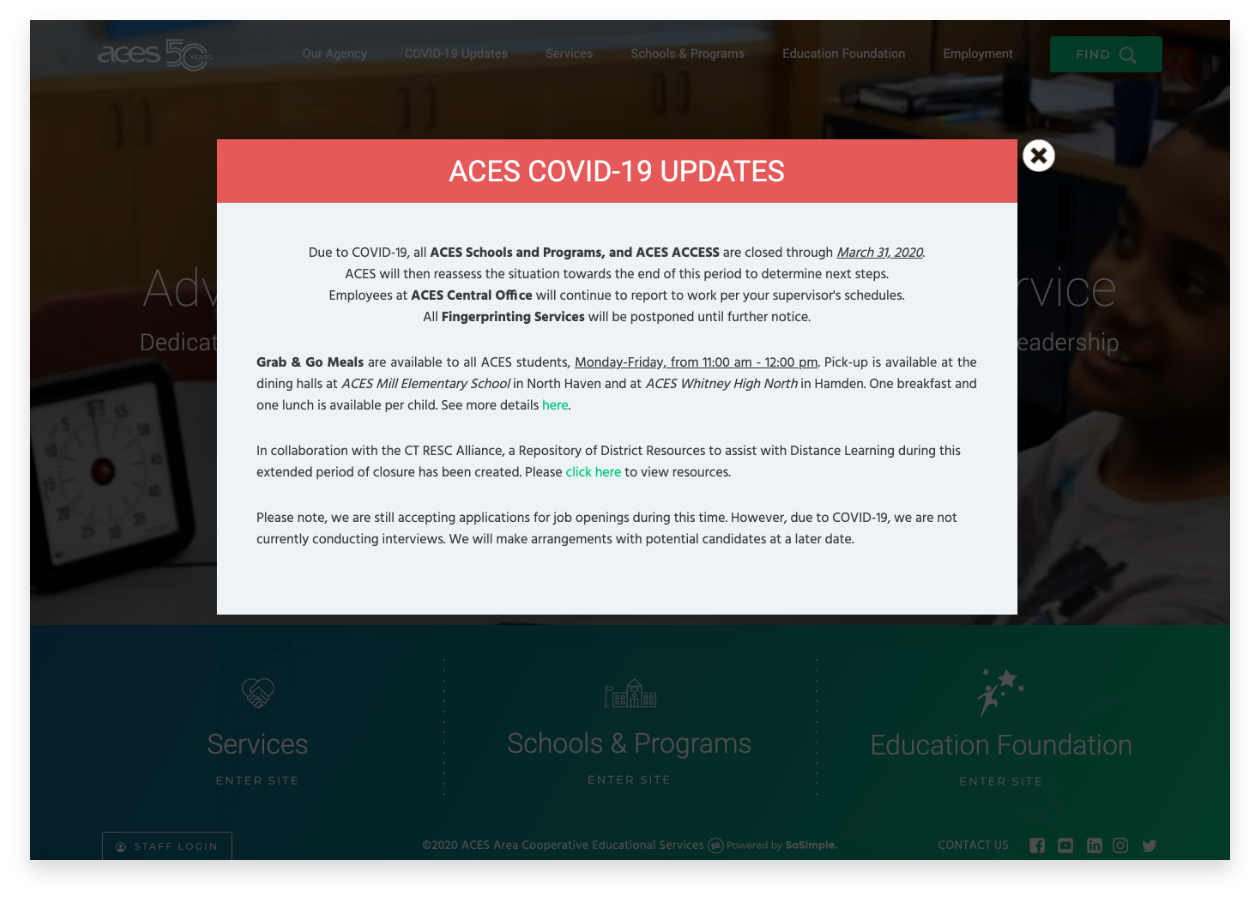 Social Media Mashup Page
Social media is helping to keep communities together during this time of uncertainty. Your website's Social Media Mashup page allows you to display all your important social media posts in one place. This will help consolidate news coming from your school and help to quell students' concerns.
FOR SOSIMPLE COMMUNITY MANAGER CLIENTS:
In addition to the tools above, you also have free access to the following tools.
Bulk Text Messaging
Your text messaging tool lets you quickly and easily send up-to-the-minute news to your entire database or targeted segments of your database.
Bulk Email Messaging
When you need to communicate more detailed information to families and staff, use your bulk email tool. Create and send emails by targeted groups or drill down to specific recipients.
NEW! E-LEARNING PORTALS
SoSimple Interactive has recently developed an exciting new tool for your school's distance learning needs: E-Learning Portals. These password-protected E-Learning Portals are housed right within your school's own website, making it much more convenient for your faculty and students than logging into third party remote classroom apps.
Designed to assist the distance learning needs of your school, these E-Learning Portals feature everything that a teacher needs to communicate with students and provide a robust yet easy-to-navigate remote classroom experience. The E-Learning Portals are available for each of your faculty members, and can house lessons, recorded video of past lessons, and live video lessons streamed through apps such as Zoom, Join Me, or Google Hangout. For two-way communication between teachers and students, each E-Learning Portal features a Message Board tool ideal for virtual classroom interaction. These interactions are especially important in distance learning and help to a build a feeling of community between classmates. The E-Learning Portal tool can also track page usage on a student-by-student basis, helping teachers to see if students have accessed their assignments. Downloadable documents can also be stored in each portal, along with staff profile and contact information.
SoSimple invites you to explore the exciting possibilities this new tool can offer your school.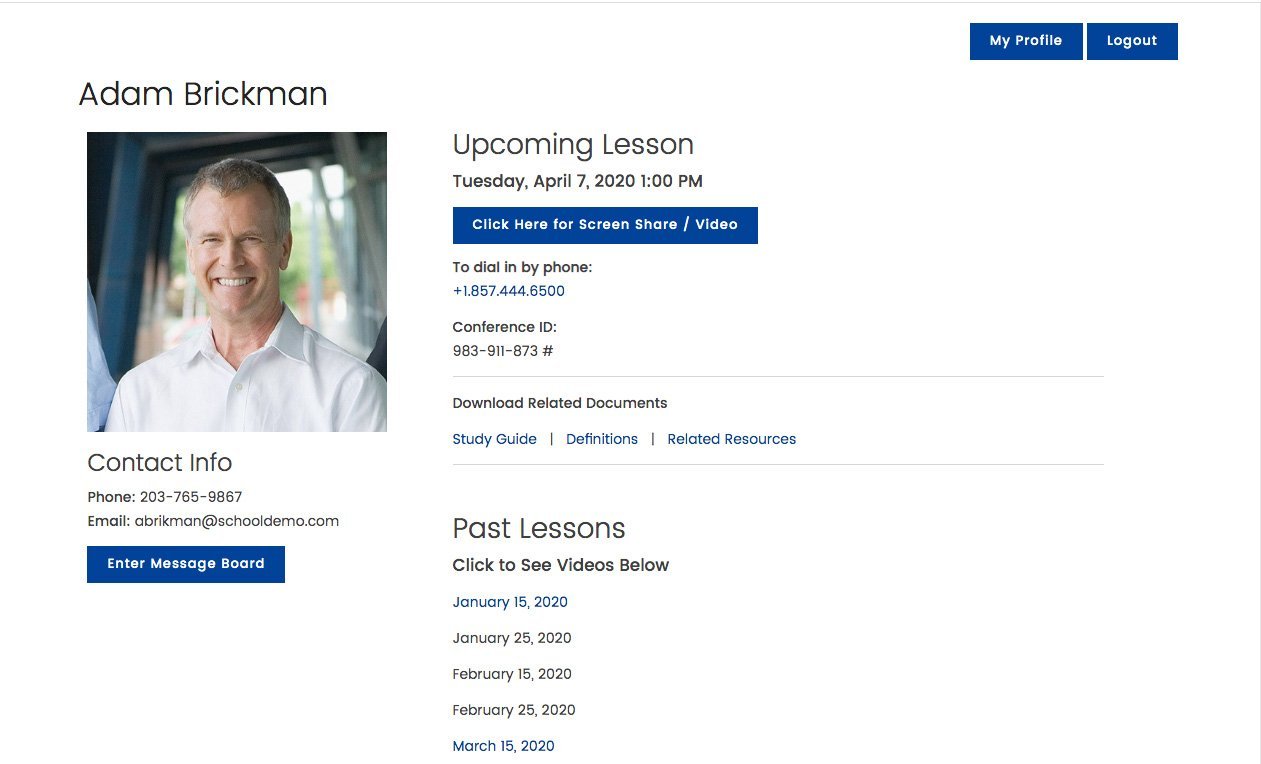 SoSimple Interactive remains open and available to our clients. If you need any assistance with the communications tools mentioned above, call us at 800-655-4790.

Recent Articles
There are no articles posted this month.